How do I remove the lawn mower blades from my Snapper product?
---
To safely remove lawn mower blades, Snapper recommends taking mowers to a local Snapper Dealer.
For the optimal performance and safety of your zero turn, lawn tractor, rear engine rider or riding mower, it is important to have a sharp mower blade.
When to Remove the Mower Blades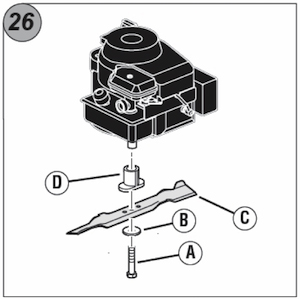 In order to determine if it's time to have your Snapper Dealer remove and replace your mower blades, frequently check the blade (C) for erosion or damage like cracks. Also be sure to check the bolt (A) that holds the blade, and keep the bolt tight. If when you are mowing the lawn, the blade hits an object, stop the engine, and disconnect the wire to the spark plug. Check the mower blade adapter (D), as well as blade itself for damage or wear. You will not be able to cut the grass again until all damages are fixed with lawn mower replacement parts from your local Snapper Dealer.
In order to maintain mower safety and healthy grass, sharp lawn mower blades are imperative. Plan to replace the lawn mower blades every two years.
Review and understand all mower safety information in your Snapper Owner's Manual. The material provided above should be used as an informative guide to know when to contact an Authorized Snapper Dealer. Terms and Conditions apply to all of the information presented on this website. Before starting any mower repair or inspection, be sure to read and understand the Operator's Manual.
WARNING: Before you inspect the blade (C) or the blade adapter (D), disconnect the spark plug wire and keep it away from the spark plug. If the blade hits an object, stop the engine. Disconnect the wire to the spark plug. Check the unit for damage.