How do I start my Snapper snow blower?
---
The general procedure for how to start a Snapper snow blower is outlined below. Please refer to your Snapper Operator's Manual for detailed information and starting instructions specific to your model. Before starting your snow blower, be sure that the small engine oil is at the full mark on the oil fill cap/dipstick. The snow blower engine may be equipped with an AC electric starter and recoil starter. Before starting the snow blower, be certain that you have read the following information. Snow blowers can be dangerous if not operated properly.
Note: If the snow blower's engine floods, set the choke to the OPEN/RUN position and crank until the engine starts.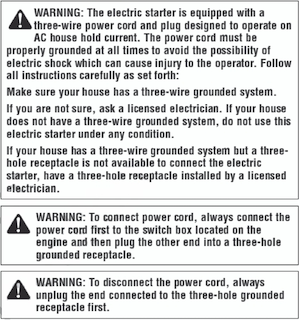 How to Start your Snapper Snow Blower Engine:
1. Check the oil level on your snow blower.
2. Make sure equipment drive controls are disengaged.
3. Move the throttle control lever to FAST position. Always operate the engine with the throttle control lever in the FAST position.
4. Turn the fuel shut-off valve to the ON position.
5. Push the safety key.
6. Turn the choke control knob to the CHOKE position. NOTE: Do not use the choke to start a warm engine.
7. Push the primer button two times. NOTE: Do not use the primer to start a warm engine.
8. Rewind Start Snow Blowers: Firmly hold the starter cord handle. Pull the starter cord handle slowly until resistance is felt, then pull rapidly.
Electric Start Snow Blower:
1. Connect the extension cord to the power cord receptacle and then into a wall receptacle. If an additional extension cord is required, make sure it is three-wire.
2. Depress the starter push button. After you start the snow engine, first disconnect the extension cord from the wall receptacle and then from the power cord receptacle. NOTE: To extend the life of the starter, use short starting cycles (five seconds maximum). Wait one minute between starting cycles.
3. Allow the snow blower engine to warm up for several minutes. Then slowly move the choke control knob to the RUN position.
Have additional questions about how to start a Snapper snow blower? Visit a
Snow Blowers Dealer
for help with starting instructions.
Before starting your snow blower, remember to read and follow all instructions and safety precautions listed in the Snapper Snow Blower Manual.