What oil type is best to use for my lawn mower?
---
For Briggs & Stratton manufactured small engines, we recommend the use of Briggs & Stratton Warranty Certified mower oil for best performance in Snapper lawn mowers, tractors, snow blowers and other outdoor power products. Other high-quality detergent small engine and lawn mower oil types are acceptable if classified for service SF, SG, SH, SJ or higher. Do not use special additives.
Changing the Mower Oil: Viscosity Matters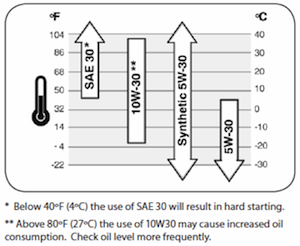 When changing the oil in your Snapper mower, use the outdoor temperatures to determine the proper oil viscosity for the engine. Use the chart to select the best viscosity for the outdoor temperature range expected.
Lawn mower engine oil recommendations for brands other than Briggs & Stratton would be best obtained through the engine manufacturer, engine Operator's Manual or local Snapper Service & Repair Dealers.
When performing mower maintenance or repair, Snapper recommends reading and following all safety precautions outlined in the Snapper Product Manual. This extends to changing the oil in all Snapper products, including tractors, riding mowers, zero turn mowers, tillers and other outdoor power products. Any FAQ instruction provided on the website are not intended to replace work completed by a Snapper Authorized Dealer. Terms and Conditions apply to all of the information presented on this website. Before operating your equipment or conducting small engine maintenance, you should always read and comprehend the entire Operator's Manual.