Lawn Mower Buying Guide
---
Looking for a new push mower this season? It's a great time to be in the market for a walk behind mower, as small engine innovation and advances in mower design have made lawn mowers more powerful with reduced environmental impact.
Push Lawn Mower Features to Consider
If you're not sure where to start, here are some questions to think about:
Do you want to bag, mulch or side-discharge your grass clippings?
How much land do you have to cover?
What is your price range?
Is your lawn flat and even, or do you have hills and thick grass in your yard?
Do you only take care of your lawn or are you looking for commercial-grade power to handle frequent mowing?
Once you have a better idea of what you're looking for, take a look at Snapper®'s line of push mower options.
Finding the Right Walk Behind Mower for you
Depending on your bagging preference, power need and budget, Snapper offers a variety of self-propelled mowers that are the answer to any lawn care aficionado's needs.
Below is a breakdown of the variety of walk behind mowers.
---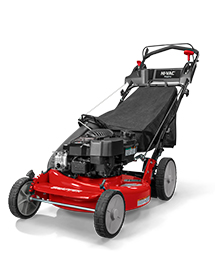 For lawn care fans who are committed to bagging lawn clippings when taking care of their mowing, and want an extra-clean finish for their yard, the Snapper HI VAC® series of push mowers is the answer.
Featuring Briggs & Stratton Professional Series™ OHV engines.
Vacuum-like suction for efficient cutting and bagging.
Takes on tough mowing jobs with rear wheel drive system for extra traction on hills and in thick grass.
Snapper's HI VAC mowers take lawn care to the next level.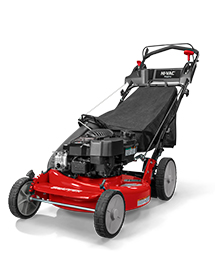 For those who like their grass clippings to be turned into instant mulch, check out the NINJA® self-propelled lawn mower.
A powerful blade with six cutting surfaces finely mulches your grass clippings while the deck blows them back into your yard for healthy grass.
Durable construction.
Easy-to-use controls and adjustments.
Grass Gripper mower traction for easy maneuverability that doesn't damage your grass.
Maximum mulching power is within reach.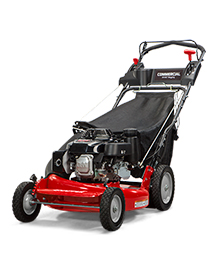 Snapper's line of commercial lawn mowers are built to tackle serious mowing jobs, season after season.
Heavy-duty, durable features include the option to choose between bagging with the HI VAC deck or mulching with the NINJA.
Dependable disc drive transmission.
Top-of-the-line engine power.
These mowers bring professional and long-lasting power to you.
---
Where to Buy Snapper Lawn Mowers
Find your local Snapper dealer, or check out Snapper mowers at local lawn mower retailers. Be sure to also check out Snapper's retail financing offers and customer rebates page to make your Snapper dream a reality.

No matter which Snapper walk behind mower you choose, you will be getting powerful mowing power, making it easy to enjoy yard care and get it done even faster.